Doll 123 is the first episode of Victoria. It aired on 28 August 2016 in the UK on ITV. The episode aired feature length on ITV. It was watched by 5.4 million people beating it's rival "The BBC" 's sitcom season revamp of "Are You Being Served?" and "Porridge".
Summary
Upon the death of King William IV, his eighteen-year-old niece, Princess Alexandrina Victoria of Kent, inherits the throne as Queen, and finds herself tested by new responsibilities and conflicted loyalties.
Synopsis
King William IV dies and Great Britain has a new monarch in his 18 year old niece Alexandrina Victoria. We explore her life and meet her mother (who can barely speak English), The Duchess of Kent, head of house, Baroness Lehzen, dresser, Mrs Jenkins, bell boy Brodie and the horrible Sir John Conroy. Victoria meets the Prime Minister of Great Britain, Lord Melbourne (who she develops a crush on) and appoints him as her only advisor (to the dismay of The Duchess of Kent and Sir John Conroy).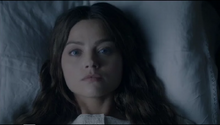 Victoria decides that if she is going to become Queen she needs a bigger home and moves to Buckingham Palace from Kensington. She puts her mother and Lady Flora in a different wing from her (to the dismay of the latter of them) and rejects Sir John Conroy as an advisor (as she sees his true colours). Mrs Jenkins and the rest of the staff get fed up of Baroness Lehzen, her bossiness and Germans. Then Miss Skerett is appointed to Mrs Jenkins, without the latter's approval. Victoria gets told horrible things by Lady Flora, her mother and Sir John, including the fact she is called "Mrs Melbourne" (because of her friendship with Melbourne). Lord Melbourne is fascinated by Victoria, her obssesion with dolls and how she has more than 123.
At a ball Victoria dances with The Grand Duke (who is in love with her and touches her bosom, to the dismay of Victoria) and then Lord Melbourne (who arrives late).
Baroness Lehzen tells Victoria that Lady Flora is pregnant with Sir John's child as when they went to Scotland they shared a carriage by themselves. Victoria confronts Sir John, who denies it. She then asks some doctors to examine Lady Flora to see if she is pregnant. Lady Flora agrees saying she will not lose her dignity.
Baroness Lehzen finds out that Mrs Jenkins was going to sell Victoria's old gloves and tells her off buy Miss Skerett takes the blame and threat of being sacked. Victoria says to sell them as she doesn't want them anymore.
Victoria has her coronation in Buckingham Palace. And afterwards the doctors go to Victoria, Lord Melbourne and Victoria's mother to say she has a tumour and she is very ill. Victoria feels bad and apologizes to a heavily ill Lady Flora (who says only god can forgive her) and her mother (who tells her off for acccusing Sir John). Victoria shouts at her mother saying Sir John is not innocent of everything else and that she needs to realise it.
Lord Melourne goes to Victoria saying the reason he was late was because it was the anniversary of his late son's birthday (who died tragically) and every year he feels he could never live again.
The Duke of Cumberland and Sir John launch a scheme to stop Victoria from being monarch.
Cast
Main
Recurring/Guest
Broadcast
On 28 August 2016 in the UK, ITV broadcasted Doll 123 against BBC One's "Sitcom Season" revamps of "Are You Being Served" and "Porridge". Porridge got 4.4m views, Are You Being Served 5m and Victoria 5.4m.
Trivia
Jenna Coleman, Eve Myles and Tommy Knight have all appeared in "Doctor Who".
Coleman from 2012 to 15 as Clara Oswald, the companion of The Doctor.
Myles as Gwyneth in 2005, Gwen Cooper in 2008 and as Cooper in Doctor Who spin-off "Torchwood" 2007-11.
Knight as Luke Smith in 2008 and in Doctor Who spin off "The Sarah Jane Adventures" (2007 to 11)
Gallery
Ad blocker interference detected!
Wikia is a free-to-use site that makes money from advertising. We have a modified experience for viewers using ad blockers

Wikia is not accessible if you've made further modifications. Remove the custom ad blocker rule(s) and the page will load as expected.